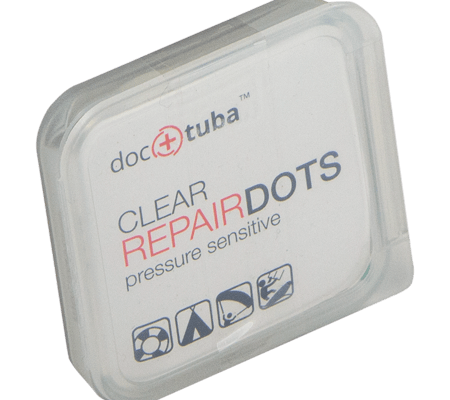 Dr Tuba – Clear Dots Repair Kit
Dr Tuba – Clear Dots Repair Kit
€6.00 incl. VAT
Die cut repair dots, made from self adhesive ULTRA Repair patches. This is upgraded version of our Kite Repair Dots!
They come in 2 sizes, 24mm and 38mm. These little circles are a perfect tool to repair pinholes and smalltear on canvas, tents, neoprene, Gore-tex, rubber, ripstop nylon, dacron/polyester or on leading edge bladder or strut kite bladder due to our new widely usable, strong and flexible adhesive.
You will find everything you need in this kit to make a quick and successful emergency repair of your kite on the spot!
If your kite or inflatable tent is sloooowly leaking air then this is the patch you need!
Kit includes:
* 12pcs of 24mm dots
* 3pcs of 38mm dots
* 4pcs alco swabs
* 1pc sanding paper
Manual (GB, DE, FR, NL, IT) included. All packed in nice protective plastic box!
In stock